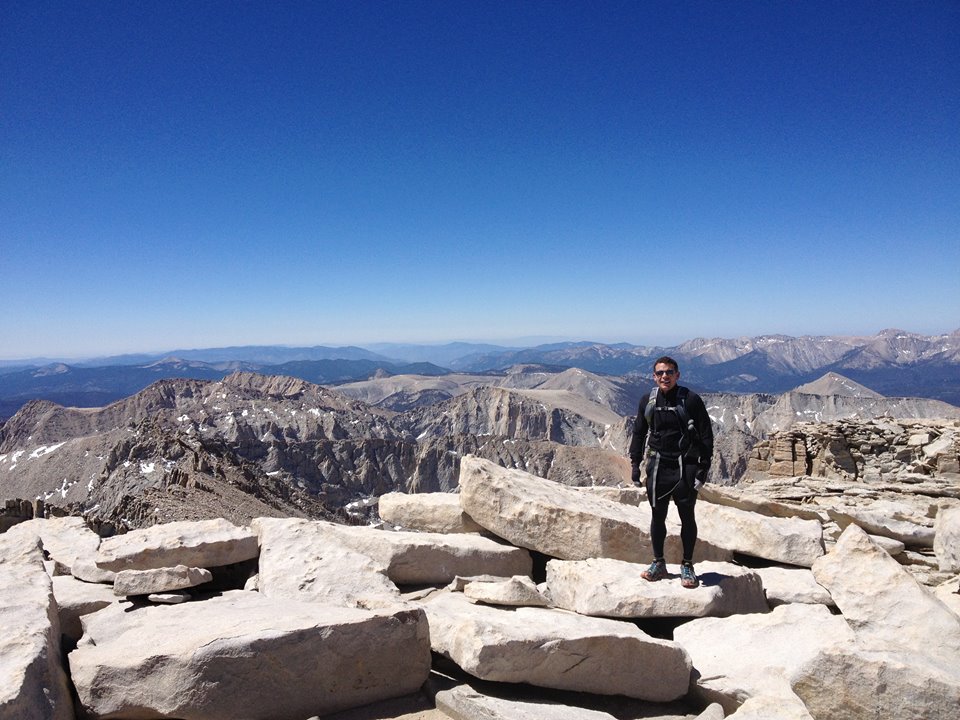 I have a confession I have become somewhat of an adventure junkie.  I have a lot of things on my bucket list that I want to cross off and climbing Mt. Whitney – the tallest peak in the lower 48 states was added to the list earlier this year.
That is where CrossFit comes in.  I started Crossfit 10 months prior and am now in arguably the best shape of my life.  My CrossFit regime consists of working out 5x times per week at CrossFit Surf City and I have been doing this consistently for the last 7 months.  Before that my body could only take 3 workouts a week.
The Idea
Simplicity – have a great hike and see how fast I could do the 22 mile round trip trek.  Some friends took a few days to go up and down, camped along the trail and had a lot of fun – this was not on my agenda.  My goal was speed and enjoy the route along the way.  Plus I have two little ones at home and I wanted to minimize the time away.
The Training
CrossFit, CrossFit, CrossFit and more CrossFit.  That was the gist of the training.  One of our rockstar coaches also came up with some supplementary workouts to get our quads and hamstrings in top shape for the hike.  Finally – I did one hike to the closest peak near me at Mt. Baldy 10,069 feet just to see if going from sea level to 10K feet in one day would give me any altitude sickness.  It didn't – whew.
The Gear
Our hike took place on June 13th.  We were checking the weather frequently as the reports of ice at the top were still problematic.  Thankfully it cleared the week before our hike.  Below is a picture of what I purchased at REI a few days before – I didn't pack all of it but I took plenty of fuel and plenty of extra for anyone else who wanted any.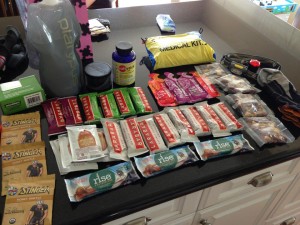 Here is what I wore:
ASICS Men's GEL-Scout Trail Running Shoe
Asics Trail Running Shoes – I have run several ½ marathons and even a full marathon in Asics so I figured I would stick with the brand that has been good to me.  These shoes were AMAZING and I highly recommend them.
Osprey Stratos 24 Backpack
  This bag has one feature that sold me right away.  Whenever I wear backpacks I sweat like crazy but this has a unique airflow feature in the back – that keeps the pack off of your back and is extremely comfortable.  It is awesome.
Misc items:
Underarmour compression pants and longsleeve shirt
Lululemon running shorts, running shirt, and wind breaker
Socks: Features running socks and a backup pair
Nike performance shirt for an additional layer
First Aid Kit
Compass
Heat Blanket
Head Lamp with extra batteries
Trekking poles
3L water bladder, 1L bottle as backup
The Hike
21:00 attempt to go to sleep
22:00 stop looking at the clock in anticipation of waking up in a few hours
0200 wakeup call
0245 Gather the Troops and jump in the car
0320 We are off and running on the trail.  No moon in sight – just our luck
I pushed hard from the beginning and we quickly broke into two groups – the lead group of 3 and a chase group of 4.  Our pace for the next few miles was solid.  I am not a "hiker" but this is one of the best marked trails I have been on.  There was never a question of where the trail went and everything was marked accordingly.  We kept a steady pace and forced ourselves to drink water and take a bit of nutrition every 20 minutes or so to stay fueled.  One additional supplement to the picture above is the addition of Salt Pills which helps regulate your electrolytes.  Again – highly recommended for long haul runs and hikes.
About a mile in we came across two deer that were right on the trail and didn't seem to mind us walking past.
Side-note: We all ended up going to the bathroom nearly every time we stopped.  This was bizarre but it kept up the whole day – must have been due to altitude?  If anyone knows the cause please leave a comment or let me know why.
Our pace was quick until we hit the 99 switchbacks – carrying nearly 5L of water weight plus all the food began to take its toll on me.  I began to slow and could only go about 100 yards before stopping to take a break.
When we hit the ridge I was not prepared for the wind or the temperature drop.  The only thing that saved me was the windbreaker I picked up 2 days prior.  Without it I would have froze.  I also used my extra pair of socks as makeshift gloves.  Note to self: performance running socks SUCK as gloves.  Be prepared.  On the way down I spoke to a hiker that said there were 50MPH wind gusts and a wind chill of 20 degrees.
1100 – Summit.  Brrrr it was cold but we made it in 7 hours and 40 minutes.  Not bad for my first real hike.  That is Nick on the left, me in the middle and Lalo on the right.  They are both coaches at CrossFit and did the whole hike without Trekking poles.  Insane.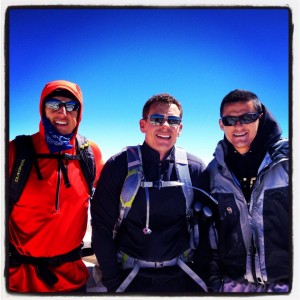 Completely random events of the day occurred at the Mt. Whitney Summit.
Random event #1 in the hut.  We went into the small hut on top of Whitney to take a quick rest and get out of the wind.  One conversation of what appeared to be experienced backpackers – they all have crazy nicknames.  Two girls were talking to a random guy that they were hanging out with Peter Pan and that they hiked with dish cloth the other day.  I almost lost it laughing and used that as my que to exit.  Do crazy backpacker/hikers have funky nicknames?  I never knew this.
Random event #2 in the hut.  2 guys come in to get out of the wind and it comes up that they happen to live in my hometown in northern California and they both also went to University of the Pacific where I graduated from.  Small world???  I think so…
The Descent
My favorite part of any hike or run is going down hill.  My body doesn't do too well on inclines but give me a decline and day of the week and I am going to run it.  I found what I am good at and I exploit it to the best of my ability.  I had to get moving as my core body temperature dropped and I couldn't stop shaking when we were at the summit (again – me being unprepared for the wind and temperature).
About 30 minutes into our decent we met up with 2 of the 4 on the chase group.  They were still going strong and showed no signs of slowing down.  We stopped to take a quick pick before I had to keep moving as I was still unable to generate any body heat.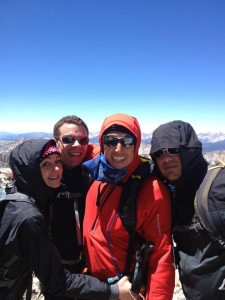 About 8 miles into the hike out we met up with the last 2 of our crew and hiked the remainder out with them.  Total time down was 5 hours and 10 minutes.  All told it took our group just under 13 hours to finish 22 miles that day.  The second crew in the picture above took about 3 more hours to get off the mountain.  And for anyone who thinks they need hiking shoes you can talk to Mal in the picture above who did the whole hike in her Nike Free's.  Not recommended but she is a beast!  (in a good way).
To sum up Mt. Whitney in a few words.  Breathtaking – in more ways than one.
The gist of the adventure is that if you CrossFit it is possible to go to extreme hikes with very little "other" training.  It might not have been recommended and most of the hikers I talked to on the way down thought I was crazy but being a little crazy is usually a good thing.
Till my next adventure…
Here are some assorted pictures: