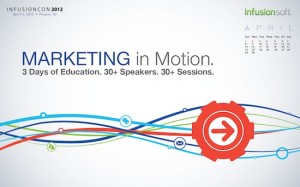 Doesn't Everyone Want to Generate Income while They are Sleeping?
I think the only response to this is YES. The answer is how can it be done in such a way that you don't have to do any more effort or do less effort than you are currently doing. Enter into the picture InfusionSoft. Our company decided to start using Infusionsoft last summer and are still in process of implementing new ideas, tips, tricks, etc. on a daily basis. I had the opportunity to attend InfusionCon this Spring. InfusionCon is a yearly event where some of the best and brightest marketers come together to share their stories, inspirations, and how to automate your workflow using their software Infusionsoft. I can say that I was blown away by one of the speakers in particular – Jermaine Griggs. This guy simply gets it, understands it and implements it. AND – he is entertaining. Overall, the sessions I participated in were a combination of entry level beginner type things to advanced follow up sequences and API discussions.
Keynote Speakers
InfusionCon had some great keynote speakers: Clate Mask – CEO and Co-Founder of Infusionsoft, Gary Vaynerchuk – Entrepreneur and Best Selling Author, Jermaine Griggs – Founder Hear and Play Music, Rich Schefren – Founder and President of Strategic Profits who had a stand in for him as he had some emergency dental work done – Tom Beal – CEO Strategic Profits , Pam Slim – Author Escape from Cubicle Nation, Ali Brown – CEO Ali Brown International just to run through the top of them.
I had two favorites – one of them I mentioned above: Keynote Speaker Jermaine Griggs. He exudes passion from the moment he walks in the hall through his speech and even walking off of stage. Jermaine won the title of Ultimate Marketer at InfusionCon 2011 and it shows as to why. Jermaine Griggs has an impressive sales funnel that never stops working and is multi tiered depending on where a prospect or customer clicks and a at what point in time. My second favorite was Tom Beal. Tom was a last minute addition because Rich Schefren had to have emergency dental work done (ouch). He was giving Rich's presentation that almost turned into a movie with the speed he was going through the slides. He understands marketing, conversion, and metrics really well.
Breakout Sessions
My trip to Phoenix was a quick 2 days so I missed out on day 1 of the conference. I participated in a few great presentations and a few not so great presentations. Three of the best were Words that Convert: How to Write Copy that Sells, How to Create a Website that Works When You're Not Working, and Infusionsoft Funnel-Vision.
Key Takeaways
Don't let the perfect be the enemy of the good. An old quote but a good quote. You will never achieve perfection if you are afraid to launch a product, service, website, email, etc. 95% is just as good if not better than 98% due to the speed to market.
Review every page to make sure there is a defined call to action
Add your bio to the bottom of every blog post
Remove Facebook and Twitter on your homepage unless your intent is to have people follow you
Know your Unique Selling Proposition (USP) and leverage it
Make sure your graphic designer thinks inside the box
Here are specific takeaways from How to Write Copy that Sells:
Personality – make sure all messaging sounds like a conversation and in in you own tone. Dear Mike is more correct then Hey Mike – but I would much rather start with the ladder.
Messaging: Instead of saying My company has 30 years of experience (boring) – make it fun and say " We've been doing this for a long time"
Segmented conversations
Talk about things your target market likes
Regionalize – United States vs abroad
Benefit statements on those new to the concept
Features for those who know and understand the product
Persuasion – identify a pain or opportunity then present yourself as the best solution
Compare apples and oranges
Leverage urgency and scarcity
Leverage social proof
and my favorite – keep it short and sweet whenever possible.
Value
Was there value in attending InfusionCon? Yes. For me it was not the sessions or keynotes that were beneficial but the networking during lunch, in between session, and after hours that were of the most value.